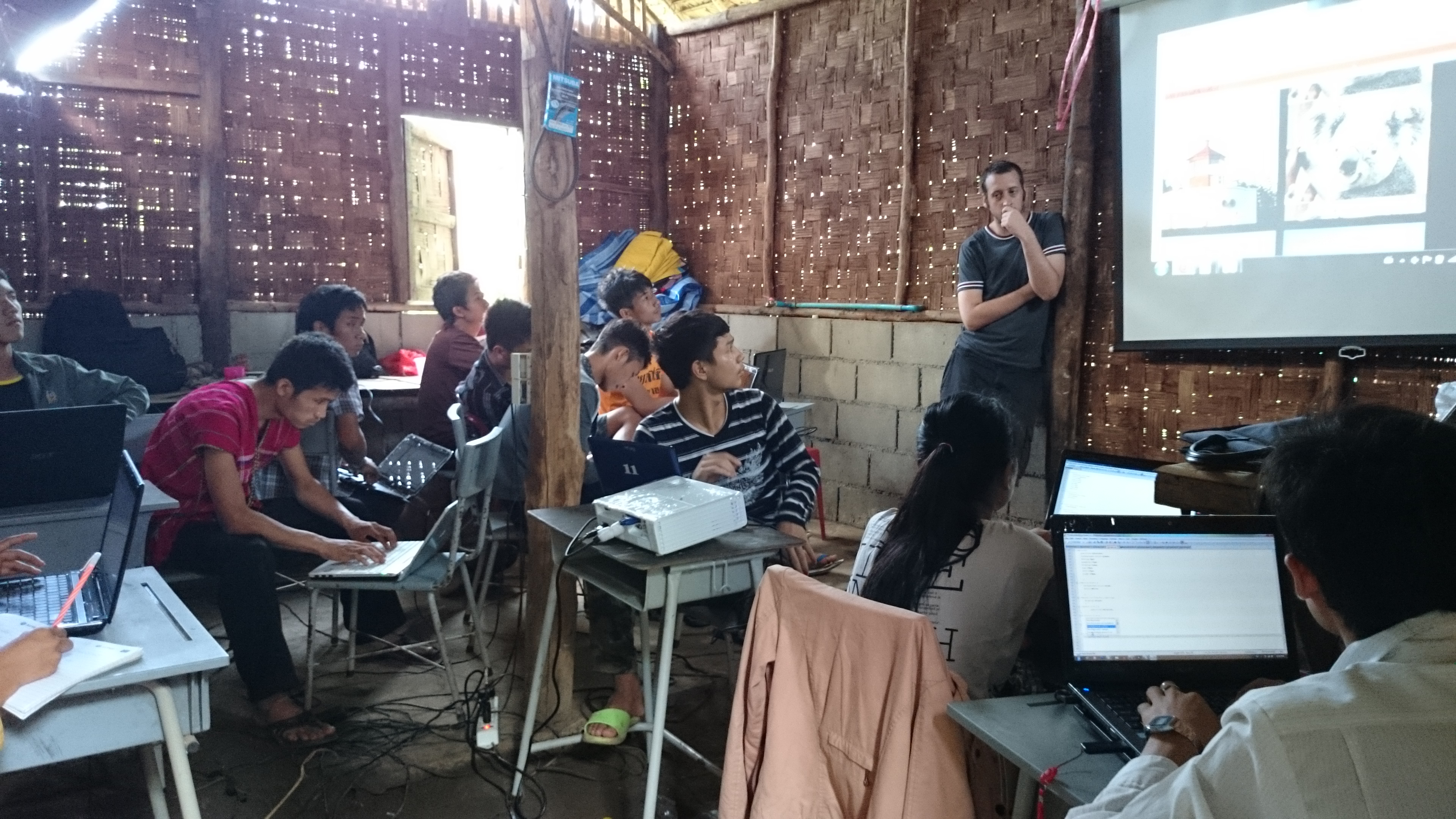 Learning How to Code: a New Hope for Burmese Refugees?
Toxicode is proud to share with you the adventure of our teammate, Pierre Usselmann, who is currently in Thailand teaching Burmese refugees how to code.
What are the origins of this project and what's going to happen?
Origins of the project
It all started when I shared with the rest of our team my experience as a volunteer teaching English in a Burmese refugee camp on the Thai border.  My story immediately caught Pierre's interest and made him want to get involved in a humanitarian project linking volunteering and programming. First, I put him in touch with one of my former students, a refugee living in the camp who wanted to learn how to code. Pierre gave him an online training and sent him simple assignments to carry out every week.
After the success of this first experience, Pierre decided to take it a step further. One week ago, after getting in touch with several local NGOs, he bought a plane ticket to Thailand. From the 4 NGOs that had answered our request, we selected the one who could fulfill the following pre-requisites : providing computers and a screen during lessons as well as accommodation and an internet connection for Pierre's personal and professional needs.
Concept behind the project
Pierre's idea was simple: Why not take it a step further and go directly there to train people who could really use the help? The Burmese refugees located in Thailand seemed to be a population that could benefit from our help to learn how to code.
To briefly sum up the history of Burmese refugee camps in Thailand, they were gradually opened after a military junta took over power in Burma in the 60s. Over the decades, these camps saw their population increase with the arrival of  several waves of refugees. Nine camps were set up in Thailand along the border with Burma, from the North to the West of the country. Each of them counted up to 20 000 refugees depending on the years, all of them people fleeing oppression by the military junta. The most oppressed and poorest of them are usually part of one of the many ethnic minorities who live in Burma. The Thai government have tolerated the development of these camps but imposes strict rules on the comings and goings of refugees outside of the camps. They can be submitted to severe sanctions if they leave without a specific authorization. Some refugees have been living in one of the camps for over ten or even twenty years. Children usually have access to basic education until the end of high school thanks to the support of local and international NGOs, but teenagers and young adults often find themselves at a loose end, with no future prospects to access higher education or find a job.
Thanks to this project, Pierre wants to help young adult refugees find a job that they could even be doing inside a refugee camp and that would provide them with a signficant income.  Learning how to code means learning skills that will get you a job.  The camp close to which he is teaching is mostly populated by the different ethnic minorities of the Karen State, who are allowed to walk from the camp to the village to follow courses with the volunteers and local teachers there – or rather, let's say that the Thai authorities turns a blind eye on the comings and goings of students going to the village.
This project is also very consistent with the spirit and way of thinking we try to cultivate at Toxicode : a project giving access to a good training course, providing practical skills and real professional prospects to an underprivileged population. It also matches our way of doing things the best we can with what we have when we are working on Toxicode projects.
And now?
After spending a few days in Bangkok, Pierre took another plane to Chiang Mai in the North of Thailand, then a bus to Mae Hong Son, 350 kms further, finally reaching the village of Nai Soi, 4 kms away from the Burmese border. The NGO we selected is the Karenni Community College (KnCC), which provides refugees with the equivalent of a 2 year college undergraduate program. Some of the staff came to pick Pierre up and drove him to the village where he just started teaching. He is living with several other volunteers in the premisces of a Karen newspaper (ktimes.org) which provides daily news about the Karen state and any topic related to the Karen community. He sends me regular updates on his experience. So far, he seems delighted by his students' fresh enthusiasm.
Let's congratulate him for this human initiative and wish him good luck with his teaching!!!
What's coming next?
I will post an interview of Pierre on our blog after he comes back to France, to share with you his impressions on the end of this adventure.
For more information and to support KnCC, write a comment under this post or go to the KnCC website: http://kncccollege.blogspot.se